About Andy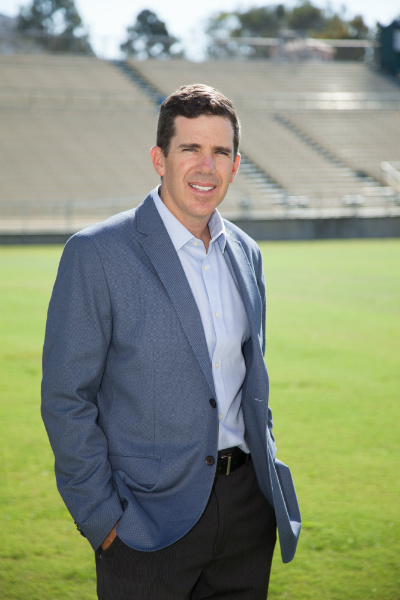 Teaching and learning are at the root of Andy's interests. When he took a leap-of-faith after graduate school and began his journey into the world of high-level college coaching some were surprised – shocked even. But those closest to him knew passion for teaching wasn't limited to the walls of the classroom.
While in graduate school at Caltech, Andy visited a football practice of his then-advisor's high school son. A few tosses of the ball and heads turned: how does a guy earning a PhD in earthquake engineering know how to throw like that? Andy's Cal Poly playing days were revealed and his coaching career was born. It was on that field at Pasadena Polytechnic where Andy helped the team run a pro-style offense and bring home a CIF Championship.
As his days at Caltech were coming to an end, now what? Enter Coach Rich Ellerson and a chance to do something unexpected, and perhaps risky. That risk paid-off and Andy spent five winning years at Cal Poly. Initially splitting time teaching and coaching, Andy soon focused solely on football and was eventually named Recruiting Coordinator in addition to being responsible for four of the six ball-carriers on the field. Notable players included third round NFL draft pick Ramses Barden and CFL player Tredale Tolver. Notable wins included two victories over San Diego State University and an FCS playoff win at Montana. Under Coach Ellerson and his staff, the Mustangs were a perennial Top 25 team and brought home more Division I victories than any other coach before or since.
December 2008 brought more change. Coach Ellerson was named the new head coach for Army and invited Andy to be part of his staff. While at West Point, Andy had duties ranging from Wide Receiver Coach to Recruiting Coordinator to Quarterback and Fullback Coach. His recruiting area included Central California, Arizona and Colorado and he was responsible for bringing in three 4-star recruits during his five years at West Point – a notoriously difficult place for recruiting due to its academic and post-graduate requirements.
On the field Andy hit-the-ground running, spending the 2009 season converting 6-foot 10-inch Ali Villanueva from lineman to wide receiver. In 2010, the Black Knights had their first winning season in over 20 years and their first bowl victory since 1985. Andy began his analytics partnership with the math department in 2012. The offensive metrics were quickly paying off. In 2012 the team was ranked #1 in the nation for rushing with 369 yards per game. In 2013 the team ranked #6 in the nation in rushing averaging over 309 yards per game.
When his time at West Point ended in February of 2014, Andy returned to Cal Poly as a professor and advisor to the football program. Since then, he has worked with some of the brightest minds in the computing and analysis world refining the work begun at West Point. Friends dating back to his Caltech days were eager to help with quality control.
From his boy-next-door beginnings as a hard-working high school quarterback to his injury-prone days as a Cal Poly back-up… from his grind-it-out days in the halls of Caltech to his seven-days-a-week as a college coach, The Q5 is a culmination of Andy Guyader's passion for teaching, his deep understanding of the game and his willingness to dig deep into analysis. Through it all Andy has kept his professional philosophy intact: teaching, coaching and an understanding of numbers can come together in an elegant, successful, easy-to-understand way. Are You a Coach Ready for The Q5?
Investing in analytics shows you are committed to bettering your team from all angles. The Q5 provides understandable information that translates to better on-field performance.
A Trusted Voice in the War Room
When an organization invests in analytics, it invests in both the present and the future by leveraging information harnessed from the past. The Q5 founder Andy Guyader has 10 years of Division I coaching experience, a PhD from Caltech, extensive background in computer programming and algorithm development, and multiple years of university teaching experience.
Start Your Investment Now!